October 1, 2017
Color Tips for Eye Shadowing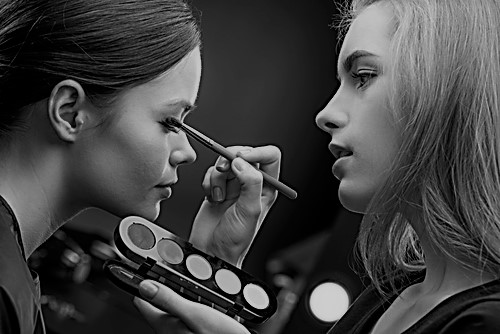 At Collectiv Academy cosmetology school, we're about giving you more than just a few rigid techniques and areas of expertise. We want graduates from our cosmetology program to grow into stylists who customers trust with their entire beauty profile, from basic hair and styling to more advanced and creative areas.
One area that's important to many people within their beauty regiment is the eyes. How one styles the colors and tones around the eyes when applying makeup can define the entire facial look. Here are some tips you can offer clients with various eye colors.
Blue Eyes
In general, those with blue eyes should go with warm colors to contrast the coolness of the blue shades. Warm browns and rosy metallic tones can combine these elements to bring some color and help the eyes stand out.
For those looking to get creative, consider purples or dark blues. Blue can create a harsh contrast in some cases, but darker shades can actually accentuate the natural brightness.
Green Eyes
For both seafoam green or slightly hazel eyes, there are many eyeshadows that can bring out color. Purples of any kind are generally best, especially for people with pure green eyes. For those with more of a hazel with brown mixed in, shades that work for brown eyes (listed below) might work as well.
Gray Eyes
Some shades of blue can be considered gray when the eyes are so light that there's very little color. Different colors of eyeshadow can bring out the colors of gray eyes – to accentuate light blues, look for metallic shades, oranges or yellows. For greener-gray eyes, look for deep purple or warm copper.
Brown Eyes
Brown eyes offer the ability for people to wear a variety of colors. Purples and warm yellows or oranges are great for dark brown, and cool colors are generally preferable for those with a bit of hazel mixed in. Shades of silver can really make the eyes pop if a client wants to get creative.
Combinations
Not all eyes fit directly within a single color classification, and many people have a combination of colors in the eyes. If this is the case, this just means there are more potential options available depending on what clients want to accentuate.
This focus on client-tailored advice, where each guest is given the unique consideration needed to understand how to help them look their best, is just part of what makes our cosmetology program special. If you want to learn more about our program, visit the program page or contact us today!