March 9, 2023
How Learning Hair Extensions Can Further Your Career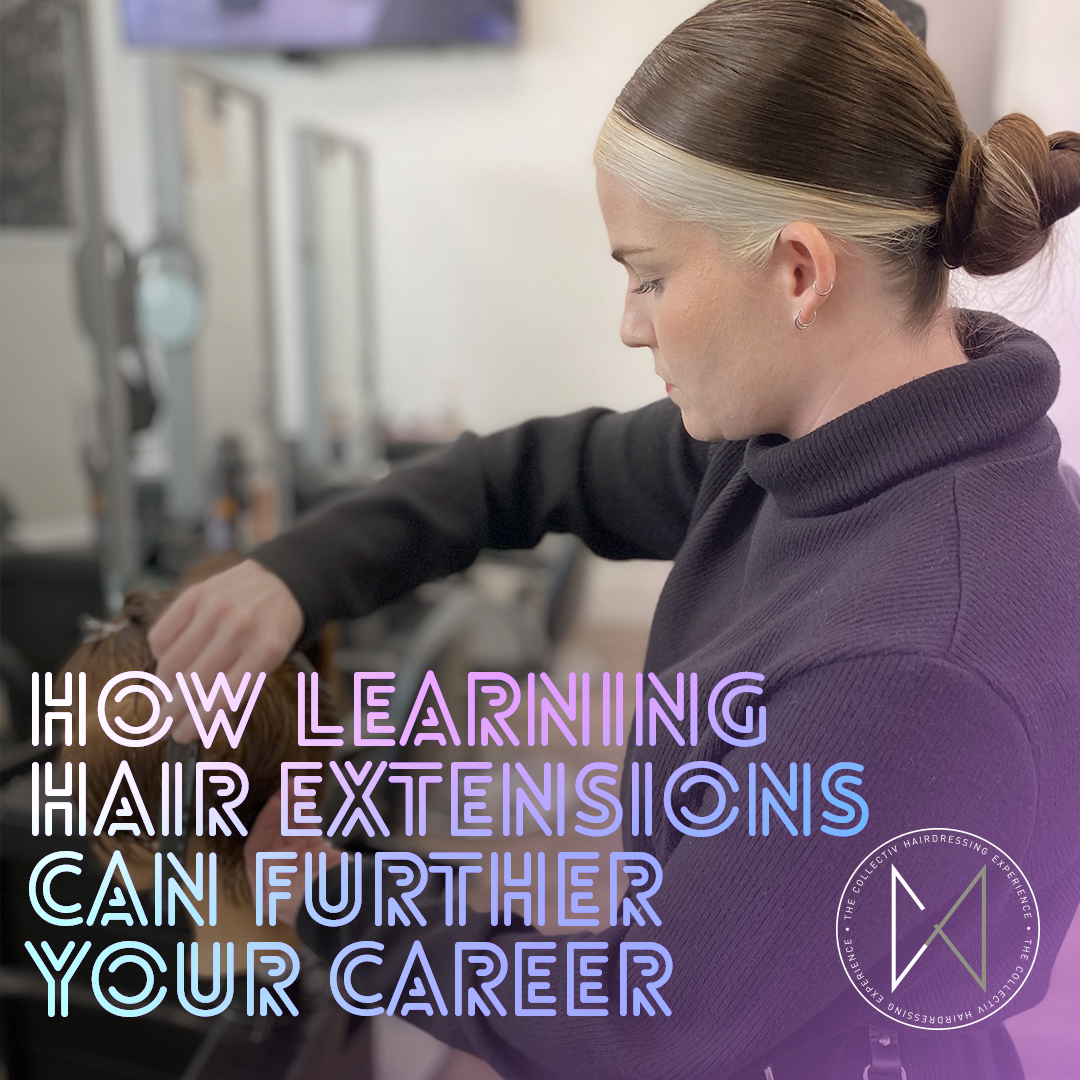 There's no better time than the present to start investing in your future. Even if you're already a licensed cosmetologist, there's no denying that continuing your education can benefit your life and career! In the beauty industry, it's important to stay relevant and consider new services to offer your clients. Hair extensions are a great service that can take your business to the next level.
At Collectiv Academy, we believe that investing in your future is important. That's why we recommend our students to continue their education and expand their skill set beyond what they learned in school! Keep reading to learn how learning hair extensions can further your career as a cosmetologist.
Expand Your Skill Set
Learning a new skill is beneficial for your business and can expand the services you offer! By learning new techniques in the hair industry, you're setting yourself up for success. There's so many skills to learn in the beauty world and you shouldn't set yourself short. When you learn new skills, you can become a more versatile and sought-after cosmetologist.
Attract New Clients
New services mean new clients. Not everyone offers hair extensions, and if you offer them you'll be able to attract new clients! Hair extensions are a highly sought after service, and clients will find someone to do it one way or another. If you're able to provide this service, you'll be able to keep your current clients and attract new ones. Especially with how accessible and affordable hair extensions are compared to the past!
Increase Your Income
Just like the US Bureau of Labor Statistics says, the more you learn the more you earn. Education is power and the more you know, the more you can control your income and raise your prices. The more you invest in your education, the more it will invest back into you! When you add new services, you add more value to your clients and increase your income!
Stay Competitive In The Field
The beauty industry is always changing and evolving, and it's important to keep up with it if you want to remain competitive. Chances are that if a client wants to color their hair and add hair extensions, they'll go to someone that can do both. If your client can't get these services from you, chances are they'll find someone that does. By adding hair extensions to your list of services, you'll be able to stay competitive in the field.
Provide A Service Your Clients Love
Hair extensions add volume, length, and shape to your hair. People love extensions for a variety of reasons and if you add hair extensions to your list of services, then you're providing something that your clients will love. A few reasons people love hair extensions:
Protect natural hair: Hair extensions are a great way to protect damaged hair. It can help avoid heat damage and everyday wear and tear because the extensions are taking the brunt of the damage!
Get thicker or longer hair: Extensions instantly provide longer and thicker hair. They enhance the look of natural hair and can give an instant confidence boost for those with short, thin hair.
Test out a new style: Hair extensions are a great way to add color and dimension to hair, without fully committing to a look. It's a great way to test out a new style and see if it's something you love!
Take The Next Step!
If you're ready to further your career, take the next step and take our hair extension course! We have partnered with Global Group, who have licensed instructors certified to help students with the skills and products needed to be successful in their careers. In this two day course, you can expect to learn:
Pro weft – machined tied
Hand Tied weft
Trust fund tape – treatment of 20 tapes coupled to make 10 pairs
Ivy league singles – treatment of approx 20 pieces for individual bonds that can fill in areas for a customized look
Ready To Get Started?
If you're interested in learning more about our hair extension program, don't hesitate to reach out! We're more than happy to help you with any questions you may have regarding your education. We look forward to hearing from you!