October 15, 2016
What Makes a Successful Cosmetologist?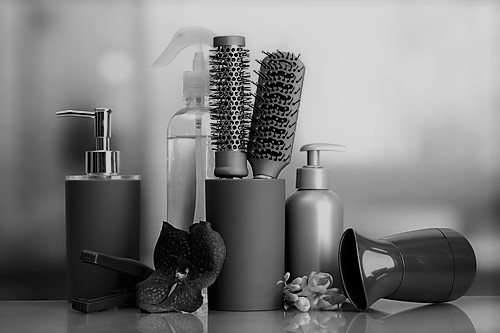 Are you passionate about creative hairstyling, but unsure how you might be able to turn your passion into a career? The first step towards becoming a cosmetologist is pursuing a beauty school education to solidify your technical skills and prepare you to sit for the Utah state licensing exam. However, this is just the beginning of the path to success as a cosmetologist. 

If you do have an interest in styling hair and exploring your creative talents in the beauty industry, you will want to look into COLLECTIV Academy's renowned Cosmetology Program. We'll show you everything you need to establish yourself as a top-notch stylist and then progress in the industry. To help you determine if a cosmetology education is right for you, here's a look at the factors successful cosmetologists need to make a splash in this fast-paced industry.
Foundational Skills
Cosmetologists perform a wide range of services, including cutting and styling hair, applying chemical treatments, coloring hair, braiding hair, and applying scalp treatments–among many others. Cosmetology school will allow you to discover these skills and put them to practice. You'll work with both mannequins in the classroom and real clients in the student salon* to allow you to develop your baseline as a cosmetologist. COLLECTIV Academy's Cosmetology Program consists of 1600 hours of curriculum covering haircare, skincare, nail care, and facial grooming. 
Cosmetology is not just about your ability to cut hair and make it look nice, though–foundational skills also include the business side of the industry. Networking is vital, as is the ability to present yourself in a professional and upstanding way. The ability to spot an industry trend early might get you a leg up on your competition. An important part of cosmetology school is building your knowledge of the salon industry and helping you develop an eye for beauty trends.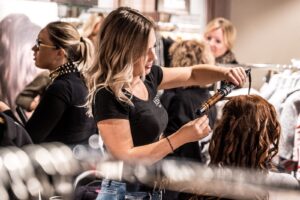 Your Unique Creative Vision
Once you've firmed up your basic skill set, you can get to work adding your own personal flair. This might include a signature color scheme or a special hairstyle–whatever sets you apart.
Professional Presentation
To advance in the cosmetology industry, you have to be visible. We talked about networking earlier, and it deserves a second mention–put yourself out there wherever possible. A few simple ways to help market yourself:
Business cards
Social media
Trade shows
Word of mouth – satisfied customers spread the word quickly!
It's also important to look at the part of a cosmetologist. After all, who would want their hair styled by someone with faded color, split ends, or an outdated hairstyle? Keeping your own look on point will help you build trust with your clients and make a strong impression on anyone you meet in the industry.
Continue Learning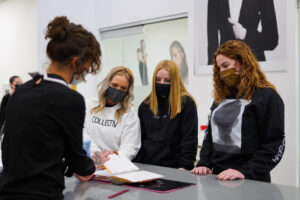 Cosmetology is an ever-evolving industry, and you need to have a growth mindset to succeed. Whether you're a pup still in barber school or a 10-year veteran with an established clientele, you can still find learning experiences in the right places. If you keep an open mind, there's no telling what might fill it.
Ready to learn more? COLLECTIV Academy is ready to give you the tools you need to succeed in the hairdressing industry. From our Cosmetology Program to our Advanced Education courses, you can discover and polish your skills to build a lifelong career in the beauty business. 
*All services performed by students under the supervision of licensed instructors.