January 16, 2023
Skills You'll Learn As A Cosmetologist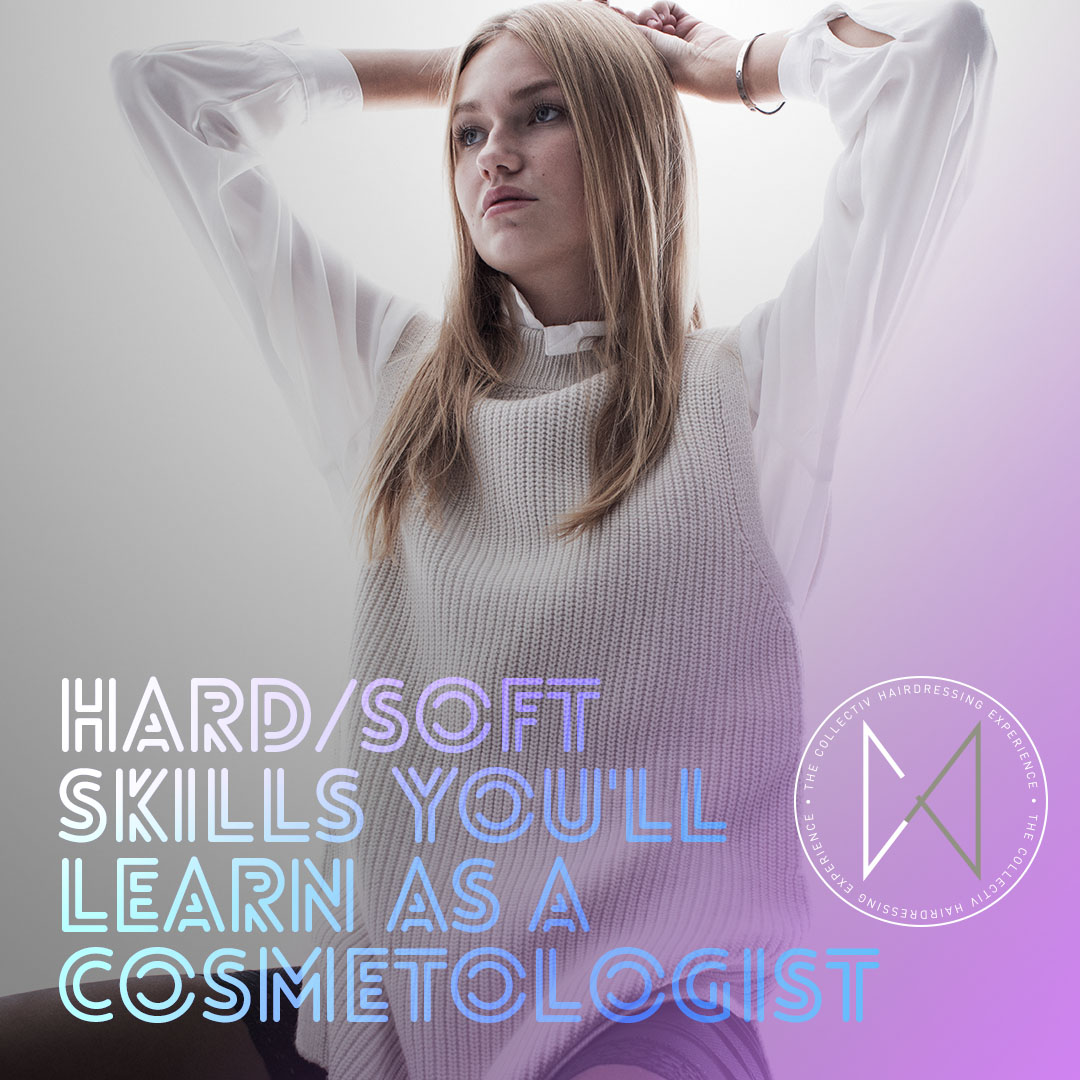 Do you have a passion for hair, skin and nails? Consider becoming a cosmetologist! Cosmetology is a rewarding career for many, and the business potential is boundless. There are many skills you'll learn as you become a cosmetologist. At Collectiv Academy, our goal is to help our students gain a deeper understanding of cosmetology and develop skill sets that are necessary for growth in the industry.
Let's talk about what skills you'll learn as a cosmetologist!
Creativity
Creativity is what sets top cosmetologists apart. With the differentiation that comes from every single client, you'll need to learn to be adaptive. One successful haircut and color combination won't always work for the next, which means you need to use your creativity. You also might face clients who have no idea what they want, and then it will be up to you to create a look for them. Creativity is crucial in this career field!
Time Management
Time is money. Planning out your schedule and clients correctly is crucial to be successful in this field. If you plan too much time for an appointment, then you'll have gaps in between appointments – meaning lost money. If you plan for too little time, you'll have disappointed customers. If you plan out your appointments correctly, you'll feel less stressed about your day-to-day!
Communication
Cosmetology is a very social career and communicating with your customers is a big part of your job! Day-to-day, you'll see and talk to different clients – hearing their stories and getting to know them. Knowing how to carry a conversation is important when it comes to cosmetology.
Active communication is a skill you'll need to also know your clients' needs by clarifying what they want. The last thing you want is a misunderstanding and an unhappy customer.
Customer Service
Good customer service is the best predictor of loyalty. While attracting new customers is important, so is retaining your customers. The more repeat customers you have, the better you'll know your schedule in advance too. Regular customers are more likely to schedule in advance. Good customer service can be anything including:
Positive attitude
Convenient hours
Competitive prices
Multiple payment options
Variety of services
And much more!
Social Media
Having a good social media presence is critical in marketing yourself. Social media is the first place a new customer will look when deciding whether or not to book with you. This is a great way for customers to see your work, learn about your services, and get to know you. Use this to your advantage! Social media is a great tool to connect with customers.
About Our Cosmetology Program
The number one thing you'll learn before any of these other skills listed above is cosmetology skills. To be able to practice cosmetology means you'll need to learn the fundamental skills it takes to become one! What you can learn in our cosmetology program includes:
Hair cutting and razor cutting
Scalp treatments
Lash and brow tinting
Tweezing and waxing
Facials
Manicures, pedicures, and nail technology
Hair extensions
Makeup
Social media marketing
Business management
Record keeping, social security, workers compensation, taxes
And much more!
At Collectiv Academy, we have a team of highly qualified individuals with a great depth of knowledge and experience in their fields. We want each student to receive the best possible training so that they can be successful in their chosen field. Our vision is to create a community where everyone can succeed.
Ready To Get Started?
Are you ready to become a cosmetologist? See the possibilities for yourself! A career in cosmetology comes with many opportunities and benefits, and you'll gain skills needed that will help you succeed in life.
If you have any questions regarding your education, don't hesitate to reach out and book a tour! We would love to hear from you and help out in any way we can. With new classes starting every month, decide to embark on this journey and don't put your dreams on hold. We can't wait to meet you!