October 7, 2022
Skip the Wig and Try these Halloween Hairstyles Instead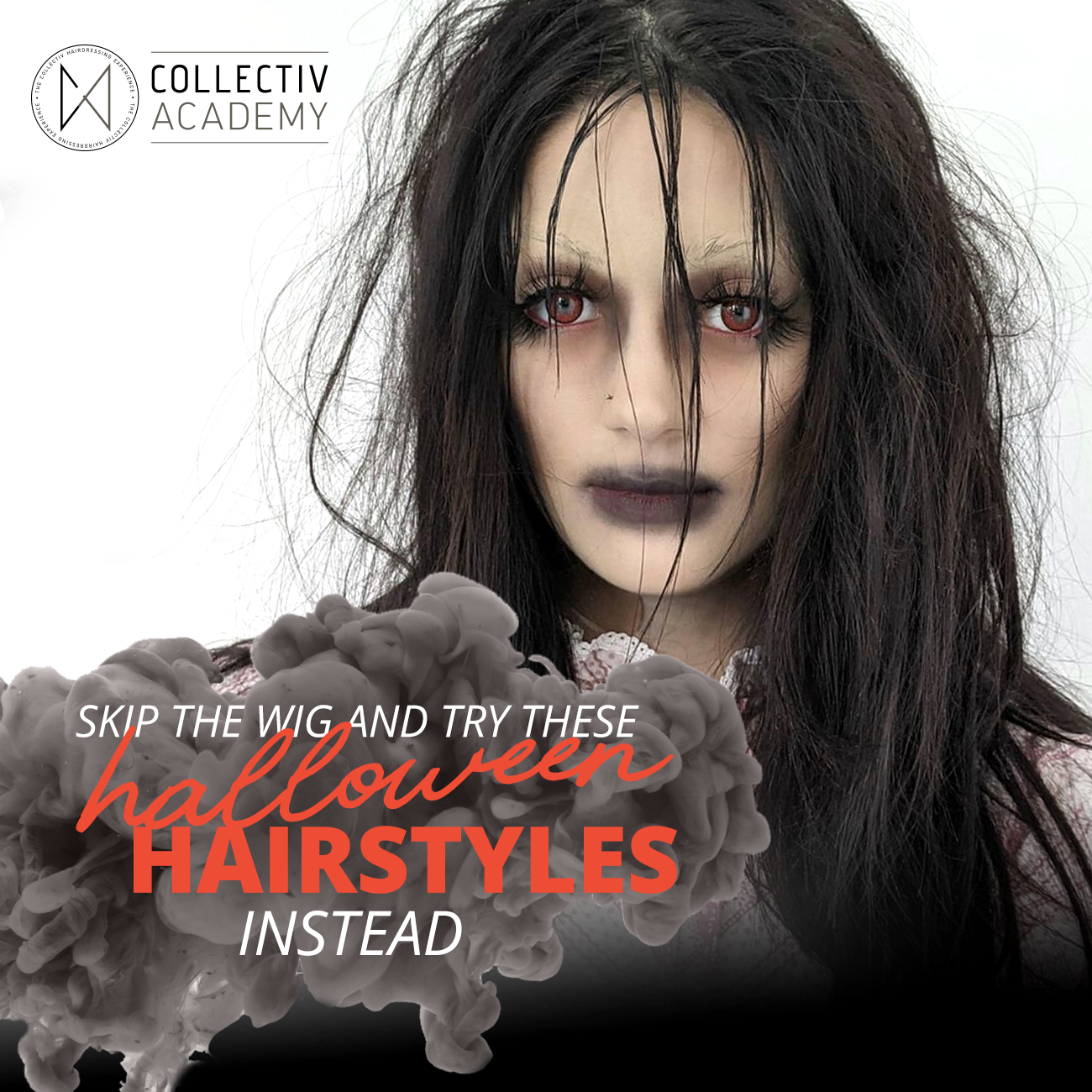 Happy Halloween!! This fun, spooky holiday is close approaching, which means you're probably preparing your killer costume! Whether you want an inexpensive look, or just like doing your own hair and makeup, you may be looking for some hairstyle ideas. Forget the wig this year, and try out these fun hairstyles instead! 
Cruella DeVil
All you need for this "devilish" look is black and white spray-on hair color. Part your hair right down the middle and style it how you like –sleek straight, 50s waves, or curly ringlets! Spray one half black and one half white. It's as simple as that! This look can be achieved with a wig if you'd prefer, but is just as easy with washable spray-on color!
Mermaid Waves
This simple hairstyle can be achieved with some texture spray, beachy clips, and hair shimmer! After washing your hair, apply texture spray or mousse. Either diffuse your hair or let it air dry to get those natural waves. If you need to, touch up less textured areas with a curling iron or crimper. Add mini braids and some seashell or starfish clips for that beachy look. Then spray with shimmer for a magical, mermaid finish!
Werewolf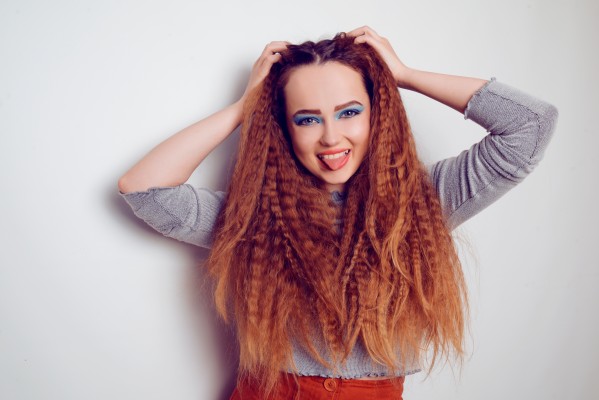 For this "beast" of a hairstyle, hair elastics, a comb, and a crimper are the only things you need. Start with crimping your entire head, tease it with a comb, then spray it with hairspray to hold it in place. This makes your hair voluminous and wild! Take the top section of your hair and make two buns to give yourself wolf "ears." Finish it off with mini braids or fake twigs to give you  that wild look!
Fairy Bun
Lucky for you, this simple look doesn't take much to pull off! Tie your hair up into a high bun–this can be as messy or smooth as you want but we think a ballerina buns look best. Pull out some front pieces to frame your face and add some cute accessories for a mystical look. Curling the pieces you pull out is also a cute option! If you're looking for accessories, they can be things like:
Pretty ribbons

Hair shimmer

Floral headband

Fake leaves and other foliage
The goal of this style is to look as woodsy yet ethereal as possible! 
Rosie the Riveter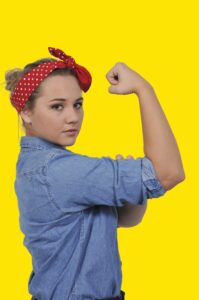 Rosie the Riveter is an iconic look that's easy to recognize – and even easier to wear! French braid your hair into a low bun, then tie a red bandana around your head. Now, you're done! It's that easy!
Wednesday Addams
This creepy costume works best for brunettes, but that doesn't mean blondes can't try it! Part your hair down the middle and braid each side. Start the braid just under each ear, and secure with a hair elastic. If your hair is lighter than Wednesday's, don't be afraid to dye it with a spray-on color! 
Lion Mane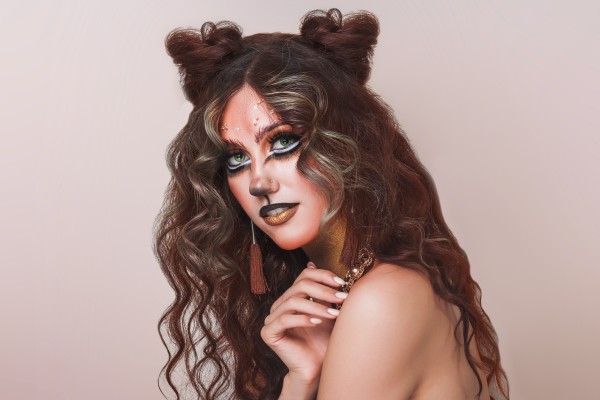 Becoming a lion is fairly similar to becoming a werewolf! Use a 1-inch or smaller curling iron to curl your hair– you want bouncy, ringlet curls. Then, brush it out and tease with a comb. Add hairspray to hold your hair in place. You can now add buns, similar to our werewolf hairstyle, or wear cat ears to complete the look!
You can also style your hair just as you would for a werewolf costume, using a crimper instead of a curling iron. It just depends on personal preference, and what you feel more confident in!
A Royal Updo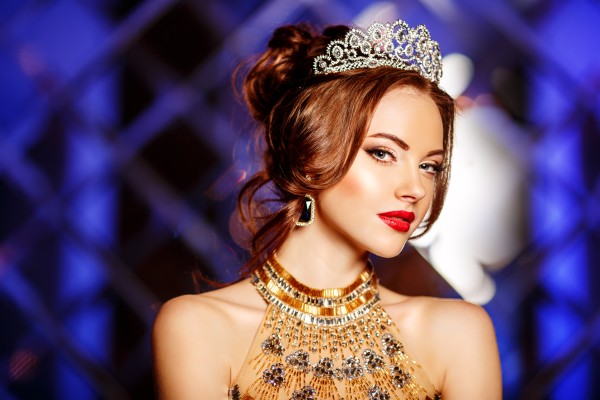 Look for a more "regal" costume? Try this queen-inspired look! Start by curling your hair how you normally would. Then, style it into a low, ballerina bun. Tug on some pieces to create texture and volume, and pull out others to frame your face. Add a tiara for a pretty, royal costume!
80s Icon
The 80s were a fun and exciting era, and the same goes for its style! To achieve this "bodacious" hairstyle, you want to go big. Crimp or curl your hair with tight ringlets. Tease the top of your head to create even more volume. Brush the front section of your hair into a high pony, and add a giant bow. The bigger the better!
Bonus Tip! If you're looking for a new hairstyle, try getting a perm! Perms were huge in the 80s, and can last 3-6 months. This style is perfect for a costume, but can also look cute year round. Just make sure you're ready for the commitment!
Visit Our Student Salon!
If you'd prefer not to take on these hairstyles yourself, make an appointment at our *Student Salon! Help our students strengthen their skills, while getting services performed at a low-cost. We would love to help you achieve your perfect Halloween costume!
Interested in working behind the chair? If you're passionate about beauty and want to express your creativity, consider an education at Collectiv Academy! Our programs are designed to let you explore your creativity, taught in a stimulating environment where the finest tools are at your disposal. Visit our website for more information or to schedule a tour! We can't wait to help you get started!
*All services performed under direct supervision of a licensed professional.