February 1, 2017
How to Succeed as a Hair Stylist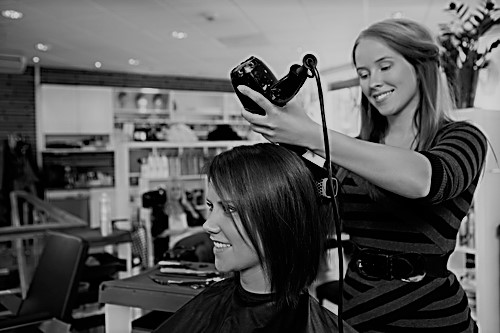 As a hairstylist, you've chosen a path that allows you to combine your passion with the desire to make a difference in someone's life. However, succeeding as a hairstylist goes far beyond just knowing the right skills. In this blog, we will explore different skills needed to succeed as a hairstylist! 
At Collectiv Academy, our hair school is designed to give you all the knowledge and techniques you need for a successful career in the field. Our program prepares you not only for the technical requirements of the job but also the marketing and client-related considerations you'll need to be on top of.
Some of these latter items can become some of the most important factors in moving your career forward once you leave our school. Here are a few broad tips for success in hair styling after cosmetology school.
Embrace Education And Continous Learning
Education is the foundation of any successful career, and the hairstyling industry is no exception. At Collectiv Academy, you will have access to comprehensive courses taught by experienced professionals, giving you a well-rounded understanding of the latest trends, techniques, and products. Embrace every learning opportunity, whether it's through classroom instruction, hands-on practice, or attending workshops and seminars.
As trends evolve, staying updated with industry advancements is crucial. Engage in continuous learning beyond formal education to enhance your skills, expand your knowledge, and remain relevant in the ever-changing world of hairstyling.
Find Your Niche
In the vast and diverse world of hairstylists, standing out from the crowd is essential for carving your path to success. One powerful way to achieve this is by finding your niche – that special area where your skills and passion shine the brightest. Perhaps you excel in crafting voluminous hairstyles that leave clients in awe, or maybe you possess an artistic flair for creating mesmerizing, bold colors. While it's not necessary to limit yourself exclusively to these areas, emphasizing your unique talents can significantly contribute to building your niche and reputation as a hairstylist.
Cultivate A Professional Image
Your personal brand and professional image play a significant role in your success. From the way you present yourself to the salon's ambiance, everything contributes to the overall experience your clients have. Invest in your appearance and dress appropriately for the salon environment. Keep your workspace tidy and organized, creating a welcoming atmosphere for your clients.
Nurture Your Creative Expression
Hairstyling is an art form, and your creativity is your unique selling point. Don't be afraid to experiment with different styles, textures, and colors. Attend fashion shows, follow industry influencers, and keep an eye on emerging trends to fuel your inspiration. With the support of Collectiv Academy's creative community, you can hone your creativity and push boundaries in your work.
Customer Service Skills
You could be the most skilled hair stylist on the planet, and it wouldn't matter much if you had no people skills. Your clients are the lifeblood of your business. From the moment you begin a consultation until a client walks out of your salon, you're providing them with a professional service – and you need to act like it. Smiles and laughs are one thing, but truly understanding their needs and connecting with them is another. By going the extra mile to make your clients feel valued, you can turn them into loyal customers who will keep coming back and refer others to your salon.
Marketing Yourself
Your salon may give you some assistance in certain areas, but in the end, it's up to you to market yourself. Social media and the internet are great options – keeping your own updated website is never a bad thing, even if you're part of a larger salon. Just like above, you could be the best hair stylist ever and it wouldn't matter much if you couldn't put your services in front of people.
Products
Your services aren't all you should be selling, either. Emphasizing products helps you in more than one way: Not only does it add to your potential revenue sources, it gives your clients a more professional feel when you recommend the right products for their situation. When they've seen your suggestions pay off a couple of times, you'll start to build that loyalty that every good stylist has from their top customers.
Seek Feedback and Learn from Mistakes
As a hairstylist, it's crucial to create an environment where clients feel comfortable sharing their thoughts and experiences openly. By actively requesting feedback and being receptive to constructive criticism, you demonstrate a commitment to providing great service and continuously improving in your skills. 
Remember, no hairstylist is perfect, and learning from mistakes is a part of any creative profession. Use feedback, both positive and critical, as a roadmap for refining your skills. It's through these moments of self-awareness that you can grow as a stylist and deliver even better results to your clients.
Become A Hairstylist With Us! 
Succeeding as a hairstylist can be a rewarding journey that demands a combination of skills. So, whether you're just starting your career or looking to take your skills to new heights, seize the opportunities that come your way and never stop learning.
If you're ready to become a hairstylist, contact us to learn more about our program! We look forward to helping you pursue your passions and become a hairstylist.