May 15, 2017
Tips for Proper Salon Etiquette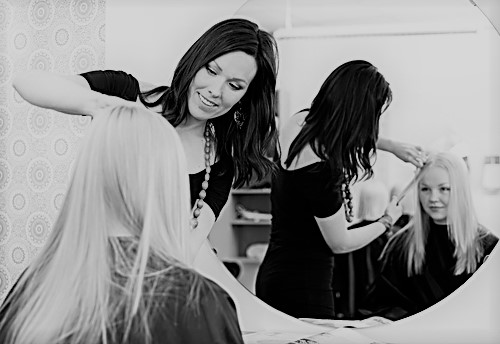 If you're interested in attending a beauty school like Collectiv Academy, it's because you have a passion for a career in the salon. You want to help people look and feel their best, in an atmosphere where you control your work hours and can spread your social wings.
One of the biggest elements of this job once you graduate from our cosmetology school and move into the field? Salon etiquette. Everything you do around the salon, even some of the little things, will impact the way your clients consider you, and could have an effect on your bottom line. With that in mind, here are a few etiquette items to consider, and some to avoid, within the salon.
Speaking Volume
You want to be social, but not so loud that the entire salon can hear you – this is still a business, and you don't want to interfere with other conversations taking place. Speak at a normal level as long as there are other clients in the salon. Also avoid profanity, even if you think your individual client is okay with it – others might not be.
Jewelry
It's great to wear tasteful jewelry to match your outfit and present yourself as a beauty expert, but consider the needs of the client as well. If you're wearing loud bangle bracelets on your arms that will be right next to a client's ears for 45 minutes, these will probably annoy them pretty quickly. Make practical decisions about jewelry and other accessories.
Gossip and Touchy Subjects
Never gossip about your co-workers. Drama can be a major impediment to a well-run salon, and you don't need to be the one fueling it. In addition, whether with clients or co-workers, stay away from touchy subjects like religion, politics or sex – these are industry taboos, as they take the focus away from clients and can also cause drama.
Cell Phone
Keep that cell phone far away from the salon floor. It's unprofessional, and make sure you aren't tempted by it. Feel free to check messages during your breaks.
Hygiene
Always keep yourself personally clean – both looking and smelling nice. You're setting an example for beauty, after all. This includes cigarette smoke, if you're a smoker.
Keep it Clean
Keeping your area – and the entire salon – clean will go a long way with clients. Clean up your area immediately after each client, and look to help the group and clean communal areas when you have time.
Tips
Never openly discuss tips in front of clients, whether it's their own or someone else's. It's very unprofessional, and puts undue pressure on them. Don't keep tips visible on your station, either.
While it may sound simple, proper etiquette is one of the quickest ways to set yourself apart in the beauty industry and create strong relationships with your clients. That's why learning this skill is a fundamental part of our program. If you'd like to see it in action and learn if a career in cosmetology may be right for you, schedule a tour!