July 26, 2021
Why Go to Beauty School? Here are 5 Reasons to Enroll!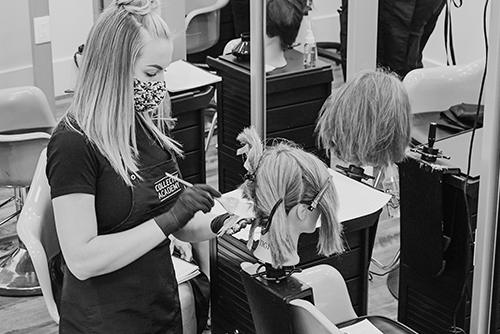 There are plenty of great reasons to pursue a career in cosmetology. You can work flexible schedules, meet new people, and flex your creativity. If you're a people person with an artistic side, cosmetology school could be perfect for you! Keep reading for our top three reasons to enroll in Cosmetology School at Collectiv Academy and pursue your dreams as a future beauty professional!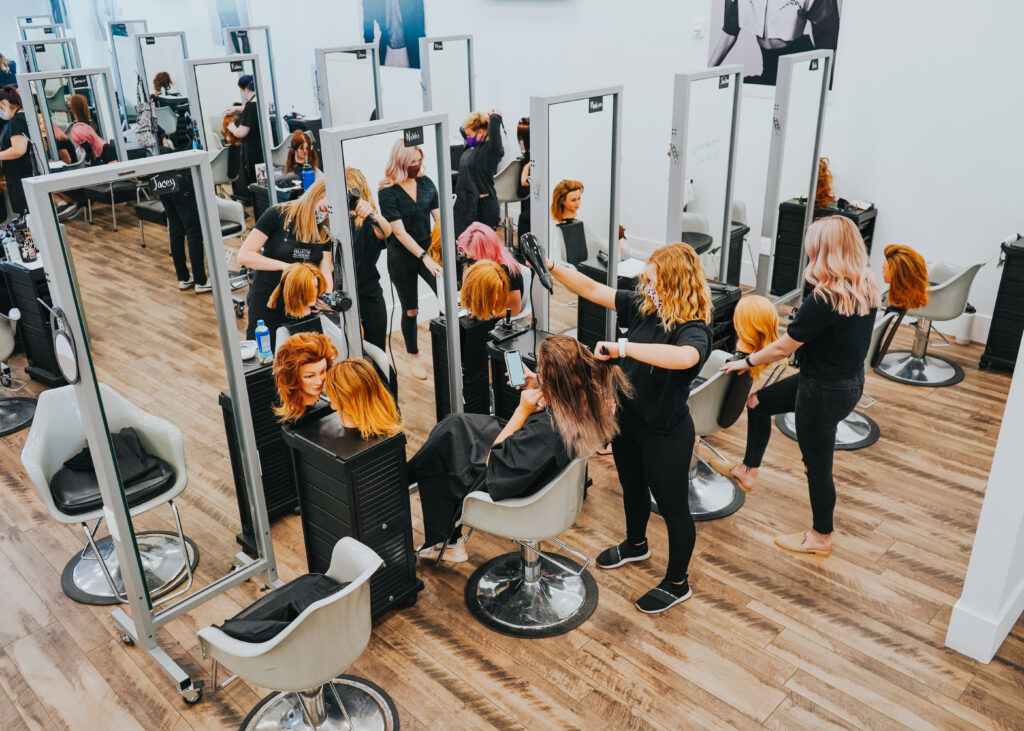 1. Hands-on Training for Valuable Skills
One benefit of a beauty school is that it's different from a traditional college. In most colleges and schools, you spend a lot of your time in general education classes. But in beauty school, you'll jump right into learning the valuable skills that you will use every day.
At COLLECTIV Academy, we focus on making our cosmetology program as hands-on as possible.
Our cosmetology program starts in the classroom. You can work with experienced instructors to learn the foundational principles of beauty but soon will be able to practice those skills in real-life on mannequin heads. Eventually, you can work with clients during your training in our student salon*. This can give you a massive advantage as you can get real experience before you graduate! Not only can you develop your cosmetology skills, but you can also learn about salon management and guest services.
2. Flexible Schedules for Continuing Education
Another great benefit to beauty school is that you don't need to rush to reach specific graduation dates. You can choose to complete cosmetology school at a pace that fits your lifestyle.
At COLLECTIV Academy, you can opt to take part-time to balance your schedule. So, if you have a job while attending school, you can find a balance. Flexible scheduling is also great for parents. It allows them to spend more quality time with their family.
Our part-time courses are a bit longer to complete. It takes about 11 months for full-time students and 14 months for part-time students. An extended program can be easier to manage if you have other responsibilities.
3. Express Yourself Through Creative Work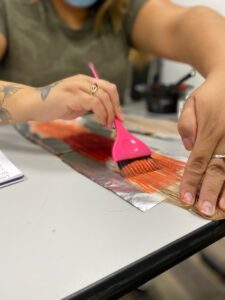 Beauty school allows you to expand on your natural talents! You can find new ways to express yourself by making others look and feel their best. It helps to be around other artists with similar interests and passions. Cosmetology programs can be great for people with inventive minds and extroverted personalities.
The creative skills learned at COLLECTIV Academy can lead to a variety of great career options. Here are just a few.
Hairstylist
Makeup artist
Nail Technician
Owning your own studio
Working for photoshoots in magazines/publications
4. Prepare for Your Licensing Exam
We know you have choices for where to pursue your education. At COLLECTIV Academy, we want to help you become your best self while doing what you love. Our education will help you feel confident in your cosmetology and barbering skills and can help prepare you to sit for your licensing exam.
Utah requires that cosmetology students complete 1600 training hours before they can sit for their exam. Our 1600-hour cosmetology program meets that requirement and can give you valuable industry training. In addition, our experienced instructors and detailed curriculum can help you sit for your licensing exam. With all this preparation, we strive to help you reach your full potential.
5. Learn Social Media and Business Skills
A good beauty school can also help you build your marketing and business management skills, which can increase future earning potential. At COLLECTIV Academy, we do just that! We have partnered with Beauty As A Business to help our students learn social media marketing strategies that can benefit them after they graduate. Many cosmetologists work for themselves. Knowing business skills can be what sets you up for success. That is why our curriculum includes business management as well as essential cosmetology techniques. Our goal is to help you become a well-rounded beauty professional who can make your mark in the beauty industry and even own your own business someday if you want!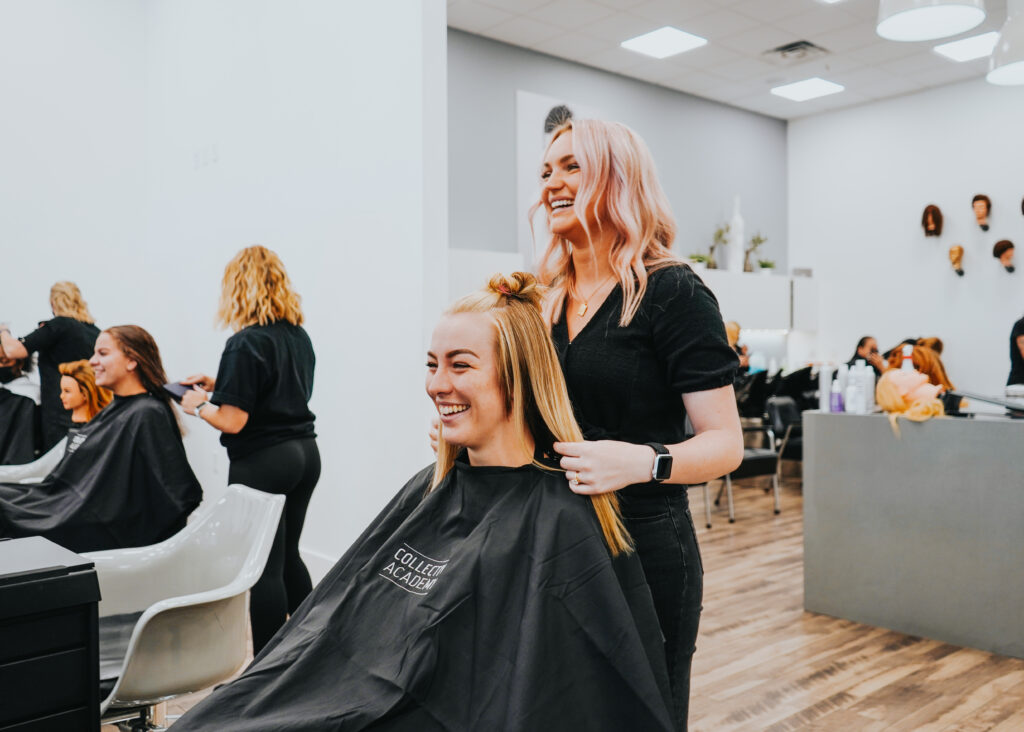 Ready to Get Started?
If you want to become a cosmetologist, enroll in a beauty school that truly values your success.
At COLLECTIV Academy, we strive to create a great learning environment. We want to be a place where students and instructors can help each other grow. We provide students with comprehensive lessons in cosmetology theory. We help our students develop their skills through hands-on training. Not only can our students learn cosmetology, but they can also learn business skills. That way they can learn to run a salon and build clientele. Our interactive learning experience can help prepare students for a future in cosmetology.
If you are interested in pursuing a cosmetology career in Utah, we invite you to apply now!
*All services provided by students under the supervision of licensed professionals. ⁠