January 1, 2017
The Benefits of a Hands-On Cosmetology School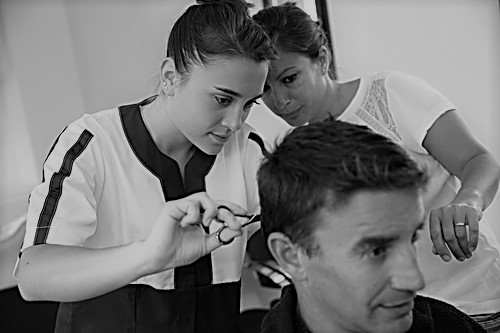 The goal of our cosmetology program at Collectiv Academy is to help mold you into an innovative and respected member of the cosmetology community, and we wouldn't be able to accomplish that without hands-on learning approaches. You aren't just sitting in a classroom, taking notes and waiting for the bell to ring – you're actively applying your learning in a professional setting.
Whether it's through the use of mannequins, live models or simply practicing on or with fellow students, we want you on your feet and learning via experience. Here are a few of the key benefits our students commonly find through this form of active learning.
Technique
You can read everything there is to read on a particular technique, but there's a good chance you'll never be able to master it without repetition. Learning which approaches work and which should be avoided in the future is a process that takes lots of trial and error, plus critiques from instructors who have seen all these issues before.
You'll make mistakes during this process, don't you worry, but these are expected and even welcomed. They're often the only way to learn how to do it right.
Confidence
Down the same lines, hands-on techniques are by far the best ways to build confidence. Would you be confident entering your first paid salon job, then doing the first hands-on haircut of your life on your very first customer? Of course not. You'd be terrified, and would likely make big mistakes even if you had every bit of book learning on the subject memorized by heart. Getting that experience hundreds of times over before you enter the professional setting will allow you to project the confident, experienced stylist your clients want to see.
Problem Solving
Practicing techniques and methods in person may also alert you to any limitations or issues you have with these techniques. Maybe you really struggle with a certain type of cut, but it's because you're using the wrong technique and just need a quick alteration. You'll never find these things out if you don't give them the chance to present themselves.
Mastering techniques, building confidence, and developing problem-solving skills are just a few of the benefits of our hands-on method. To learn about more of the benefits, check out our cosmetology program, or come in for a tour to experience it for yourself!