October 11, 2023
How You Can Prepare for Beauty School in High School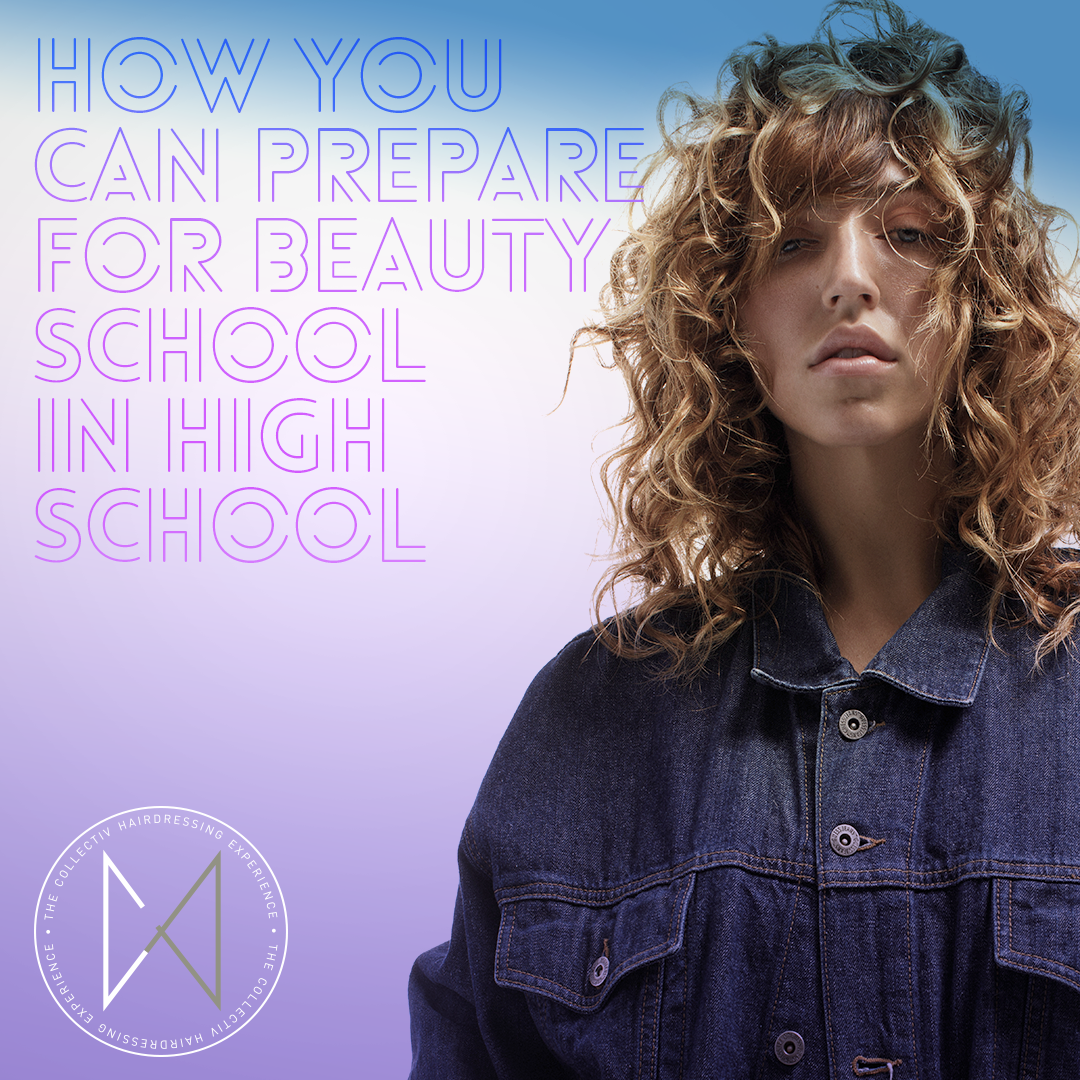 The beauty industry can be a dynamic and rewarding field that can offer a wide array of career opportunities. Whether you dream of becoming a skilled cosmetologist, a makeup artist, or a hair stylist, pursuing a career in beauty can lead to a fulfilling and creative profession. However, before you begin making this decision, proper preparation is key.
While many may believe that preparing for beauty school begins during high school, the truth is that it's never too late to pursue your passion for beauty. In this guide, we'll delve into how you can effectively prepare for beauty school during or after high school. Whether you're a recent graduate or someone considering a career change, these steps can help you set a strong foundation for your beauty school experience.
We'll explore the essential steps you can take to ensure a smooth transition into beauty school after high school. From researching the right programs to securing financial aid, we'll provide you with a guide to help you prepare for your future in the beauty industry.
Planning for Your Beauty School Journey
When it comes to pursuing a career in the beauty industry after high school, a well-thought-out plan can be your roadmap to success. This plan should encompass several crucial aspects that can help you make informed decisions and set the stage for a rewarding beauty school experience.
1. Researching Beauty Schools:
Before you can prepare for beauty school, you'll need to choose the right one. Start by researching beauty schools in your area or those you're willing to relocate to. Consider factors such as location, reputation, program offerings, and accreditation. Look for schools that align with your career goals and offer the specialties you're interested in, whether it's skincare, makeup artistry, hairstyling, or something else entirely.
2. Understanding Admission Requirements:
Each beauty school may have specific admission requirements, and it's crucial to understand these early in your preparation. These requirements can include a high school diploma or equivalent, letters of recommendation, and sometimes a personal interview. Make a checklist of the admission requirements for your chosen beauty schools to ensure you're on the right track.
3. Building a Strong Portfolio:
While a portfolio might not be mandatory for all beauty school admissions, having one can set you apart from other applicants and demonstrate your passion and skills. Begin building your portfolio by documenting your work, whether it's makeup looks, hairstyles, or skincare treatments. Keep this portfolio up-to-date and organized so you can showcase your progress and talent during the application process.
4. Gaining Relevant Work Experience:
Gaining hands-on experience in the beauty industry before enrolling in beauty school can be immensely valuable. Consider working as an assistant or a front desk specialist at a salon, spa, or makeup studio. This experience not only helps you refine your skills but also provides insights into the day-to-day operations of the beauty industry.
5. Saving for Tuition and Expenses:
Beauty school, like any educational pursuit, comes with costs. Begin planning your finances early, including tuition, supplies, and any additional expenses. Explore options for *financial aid, scholarships, or part-time work to help cover these costs. It's essential to have a clear financial plan to avoid unnecessary stress during your beauty school journey.
In the next sections of this guide, we will dive deeper into each of these aspects, providing you with valuable insights and actionable steps to prepare effectively for beauty school after high school. Your journey toward a rewarding career in the beauty industry begins with careful planning and preparation, and we're here to help you every step of the way.
*financial aid is only available to those who qualify
Searching For Financial Aid and Scholarships
One of the critical aspects of preparing for beauty school in high school is managing the financial aspects of your education. Beauty school tuition and related expenses can vary, and having a financial plan in place can significantly ease the burden. Here's how you can secure financial aid and scholarships to support your journey:
FAFSA (Free Application for Federal Student Aid)
Start by filling out the FAFSA form. This government program provides financial aid to eligible students pursuing higher education, including beauty school. Completing the FAFSA can open doors to grants, work-study opportunities, and federal student loans. Be sure to check the deadlines for FAFSA submissions and provide accurate information to maximize your financial aid eligibility.
Institutional Scholarships:
Many beauty schools, including Collectiv Academy, offer their own scholarships and grants. These can be based on academic performance, financial need, or specific criteria related to the beauty industry. Explore the scholarship opportunities available at your chosen beauty school and apply for them diligently.
Private Scholarships and Grants:
In addition to institutional scholarships, numerous private organizations and beauty industry associations offer scholarships and grants. Research and identify these opportunities and apply for those that align with your goals and qualifications. Some scholarships are specifically designed for students pursuing particular beauty specialties, so keep an eye out for these niche opportunities.
Remember that financial aid and scholarship opportunities can change from year to year, so it's essential to stay informed about deadlines and application requirements. It's also wise to seek advice from financial aid advisors at your chosen beauty school, as they can guide you through the application process and provide insights into additional financial aid options.
Choosing the Right Collectiv Academy Program
Once you've completed the essential steps in preparing for beauty school in high school, the next critical decision is choosing the right program that aligns with your career goals and aspirations. Collectiv Academy offers a range of programs designed to provide students with the knowledge and skills needed for success in the beauty industry. Here's how to navigate this important decision:
Start by visiting the Collectiv Academy website and exploring the various programs we offer. Whether you're interested in cosmetology, esthetics, makeup artistry, or another specialty, Collectiv Academy provides comprehensive training in these areas. Take your time to review each program's curriculum and requirements to find the one that best suits your interests.
Think about your long-term career goals and how each program aligns with them. Are you passionate about helping clients achieve their best look through makeup? Are you drawn to the art of hairstyling and cutting-edge trends? Understanding your career aspirations will help you make an informed decision about which program to pursue.
Reach out to Collectiv Academy's admissions counselors or representatives to gather more information about the programs you're interested in. They can provide valuable insights, answer questions, and guide you through the application process. Don't hesitate to seek their advice when making your decision.
Scheduling Your Tour:
To schedule a tour of Collectiv Academy's campus, visit our website and find the designated tour page. Follow the instructions to book your tour at a time that suits you. Be prepared with questions and a list of things you'd like to see and learn during your visit.
In conclusion, scheduling a tour is a crucial part of your preparation for beauty school in high school. It allows you to connect with the institution, visualize your educational journey, and make an informed decision about your future in the beauty industry. Take advantage of this opportunity to explore Collectiv Academy and take the next step toward your dream career
Remember that pursuing a career in beauty can be incredibly rewarding. Whether you aspire to be a skilled cosmetologist, a makeup artist, a hairstylist, or a specialist in skincare and esthetics, your passion and dedication can guide you to achieve your goals.
At Collectiv Academy, we are here to support your dreams and help you turn your passion for beauty into a thriving career. Our programs are designed to provide you with the knowledge, skills, and hands-on experience needed to excel in the industry. If you're ready to take the next step or have any questions about our programs, financial aid options, or the admissions process, please don't hesitate to reach out. We look forward to welcoming you to Collectiv Academy and supporting you as you follow your passion for beauty.